Blue Heron Appoints Arts Executive Bobby Pape as Executive Director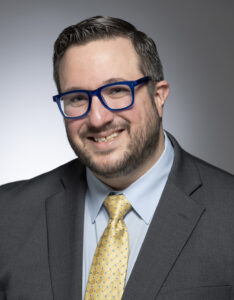 (For Immediate Release, Boston—September 25, 2023) Blue Heron, the Gramophone Award-winning chamber music ensemble, announces the appointment of arts executive Bobby Pape as Executive Director. Beginning his tenure on October 10, Pape will lead the organization into its 25th anniversary season, following the recent culmination of its multi-year project to perform the complete works of the great 15th-century composer Johannes Ockeghem, Ockeghem@600.
"We are very lucky to be welcoming Bobby Pape back to Boston to join Blue Heron as our Executive Director," says Artistic Director Scott Metcalfe. "Bobby was a well-known presence in the city's musical scene for many years as the Executive Director of Boston Musica Viva, and his experience co-leading a new music ensemble, advocacy for unknown and unheard music, success in building new audiences, and superlative development skills make him a perfect fit to succeed Sarah Radcliffe-Marrs and partner with the ensemble in building our future, as Blue Heron embarks on its 25th season."
Pape is a versatile nonprofit arts executive with over fifteen years of experience and a personal passion for promoting lesser-heard music and underrepresented creators. Most recently, Bobby was Director of Development and Marketing of the Grammy Award-winning Albany Symphony, where he built and managed the organization's annual earned and contributed revenue plans and guided a team of sales, marketing, and fundraising staff and consultants. Previously, Bobby served as the Executive Director of Boston Musica Viva—America's oldest professional chamber music ensemble dedicated to commissioning and presenting contemporary music—for nearly a decade. His earlier work includes directing fundraising for Boston's Cantata Singers and serving in a variety of marketing and development roles with the Buffalo Philharmonic Orchestra. Bobby has also consulted for organizations including the New York Virtuoso Singers, the Bach, Beethoven & Brahms Society, and the Longwood Symphony.
"It is an honor to be joining the leadership of Blue Heron, one of America's premier early music vocal ensembles," said new Executive Director Bobby Pape. "Alongside Artistic Director Scott Metcalfe, I look forward to sharing the incredible power of the kind of thoughtfully programmed and expertly performed concerts that have become a hallmark of Blue Heron over the last 25 years."
About Blue Heron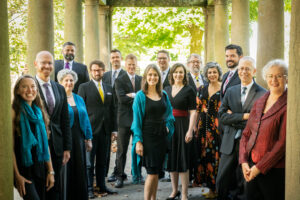 BLUE HERON has been acclaimed by The Boston Globe as "one of the Boston music community's indispensables" and hailed by Alex Ross in The New Yorker for its "expressive intensity." The ensemble ranges over a wide repertoire from plainchant to new music, with particular specialties in 15th-century Franco-Flemish polyphony and early 16th-century English sacred music, and is committed to vivid live performance informed by the study of original source materials and historical performance practices. Blue Heron offers a catalog of twelve recordings and is the only group outside of Europe to receive the Gramophone Classical Music Award for Early Music (2018). Blue Heron's CD Johannes Ockeghem: Complete Songs, Volume I was named to the first Bestenliste (Quarterly Critics' Choice) of 2020 by the prestigious Preis der deutschen Schallplattenkritik (German Record Critics' Award). Its multi-season project to perform the complete works of the great 15th-century composer Johannes Ockeghem, Ockeghem@600, wound up in March 2023, making Blue Heron the only ensemble in North America, quite possibly anywhere in the world, to have accomplished this feat.
For more information and photos, visit www.blueheron.org.
Media Contact: Stephanie Janes PR, (617) 419-0445, stephanie@stephaniejanespr.com
# # #