Johannes Ockeghem: Complete Songs Volume 1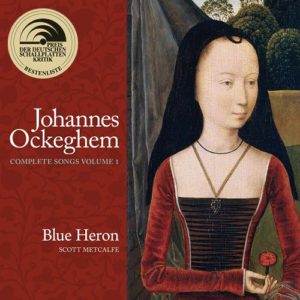 Johannes Ockeghem (c.1420-1497): Complete Songs, Volume 1
This is the first disc of a 2-CD set that will include all of Ockeghem's songs; the second is planned for release in 2022. The songs have not been recorded complete since the early 1980s.
Johannes Ockeghem (c. 1420-1497) was one of the most celebrated musicians of the fifteenth century and is one of the greatest composers of all time, every bit the equal of J.S. Bach in contrapuntal technique and profound expressivity, and like Bach able to combine the most rigorous intellectual structure with a beguiling sensuality. His two dozen songs set French lyric poetry in the courtly forms of the fifteenth century—rondeau, virelai, and ballade—to exquisitely crafted polyphony in which all voices are granted equally beautiful and compelling melodies.
Besides eleven of Ockeghem's songs, Volume 1 includes two related works: the anonymous En atendant vostre venue from the recently-discovered Leuven Chansonnier (probably copied c. 1475 in the Loire Valley, where Ockeghem lived and worked), whose text borrows the first line of Ockeghem's Quant de vous seul, and Au travail suis by the composer Barbingant, which quotes both text and music from the opening of Ockeghem's Ma maistresse. The CD booklet contains complete texts, translations, and notes on the music and performance practice by Sean Gallagher (musicological adviser for Ockeghem@600, Blue Heron's project to perform the complete works of Johannes Ockeghem in a series of thirteen concert programs) and Blue Heron's artistic director Scott Metcalfe.
BHCD 1010
Release Date: November 1, 2019
Track Listing
1 Aultre Venus estes sans faille
2 Quant de vous seul je pers la veue
3 Anonymous En atendant vostre venue
4 Ma maistresse et ma plus grant amye
5 Barbingant Au travail suis que peu de gens croiroient
6 S'elle m'amera / Petite camusecte
7 Mort tu as navré de ton dart / Miserere
8 O rosa bella (instrumental)
9 D'un autre amer mon cueur s'abesseroit
10 Fors seullement l'actente que je meure
11 Fors seullement contre ce qu'ay promis / Fors seullement l'actente
12 Se vostre cuer eslongne moy a tort
13 Permanent vierge / Pulcra es / Sancta dei genitrix
Total time: approx. 65 minutes
Megan Chartrand, Kim Leeds, Sophie Michaux, Martin Near, Margot Rood, discantus
Owen McIntosh, Jason McStoots, Stefan Reed, Aaron Sheehan, Sumner Thompson, tenor & contratenor
Paul Guttry, David McFerrin, bassus
Laura Jeppesen, vielle
Scott Metcalfe, director, harp & vielle