FOR IMMEDIATE RELEASE:
MANY VOICES – Celebrating diverse music and voices from the 15th through 21st Centuries
Friday, April 22, 2022 at 8:00 PM
Saturday, April 23, 2022 at 2:30 PM
First Church, Congregational, 11 Garden Street, Cambridge MA
Virtual Concert Release: Friday, May 6, 2022 12:00 pm
Scott Metcalfe, Artistic Director
Contact: Kathleen Brittan, Executive Director
978-395-1145 or kathleen@blueheron.org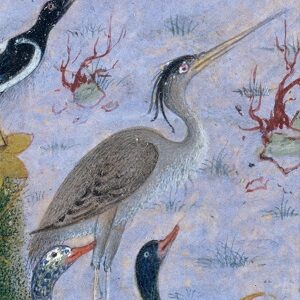 MANY VOICES, Blue Heron's final concert of the 2021-22 season, is a celebration of diverse voices and styles. European music before 1600 is represented by the Salve regina for six voices by the 15th-century Flemish composer Jacob Obrecht and a pair of madrigals by one of the few published female composers of the 16th century, Vittoria Aleotti. Leaping forward to the 20th century, Jean-Yves Daniel-Lesur's Le Cantique des cantiques (1952) sets poetry from the Song of Songs, translated into French, in a rich texture of twelve solo voices. Boston's own Grammy-nominated composer Mehmet Ali Sanlıkol brings us into the present day with DEVRAN, a polyphonic work that marries Sufi Muslim texts, Renaissance counterpoint, and elements of traditional Middle Eastern music. Finally, we will perform a motet by Kevin Allen, from whom we commissioned a new piece for Christmas 2020. The concert also features a guest appearance by Sanlikol's ensemble DÜNYA, a collective specializing in music from Turkish traditions.
Free pre-concert talk by Grammy-nominated Mehmet Ali Sanlıkol (DÜNYA, New England Conservatory) 45 minutes before each concert.
Tickets are $35 for adults, $10 for students or low-income:
https://www.blueheron.org/concerts/23rd-season-subscription/many-voices/
Please note our COVID safety protocols for in-person attendance at https://www.blueheron.org/covid-19/
Tickets for live concerts are $50 for adults, $35 for Seniors, $10 for students or low-income, and include on-line access. Tickets for online-only concerts are $39 for adults, $30 for seniors, $10 for students or low-income. Visit www.blueheron.org/concerts for full details.
ABOUT BLUE HERON
BLUE HERON has been acclaimed by The Boston Globe as "one of the Boston music community's indispensables" and hailed by Alex Ross in The New Yorker for its "expressive intensity." The ensemble ranges over a wide repertoire from plainchant to new music, with particular specialties in 15th-century Franco-Flemish polyphony and early 16th-century English sacred music, and is committed to vivid live performance informed by the study of original source materials and historical performance practices. With a catalog of twelve recordings, Blue Heron is the first group outside of Europe to receive the Gramophone Classical Music Award for Early Music (2018). Additional accolades in the Noah Greenberg Award form the American Musicological Society, and the Preis der deutschen Schallplattenkritik (German Record Critics' Award) in 2020. Blue Heron is Renaissance vocal music for the 21st century.
ABOUT MEHMET ALI SANLIKOL
Grammy-nominated composer and New England Conservatory faculty member Mehmet Ali Sanlıkol hails from Cyprus and Turkey. A jazz pianist, multi-instrumentalist, and singer, Sanlıkol has been praised by critics all over the world for his unique, pluralist, multicultural and energetic musical voice. The Boston Globe noted that Sanlıkol's "music is colorful, fanciful, full of rhythmic life, and full of feeling. The multiculturalism is not touristy, but rather sophisticated, informed, internalized; Sanlıkol is a citizen of the world … who could play decisive role in music's future." Sanlıkol has composed for and performed with international stars and ensembles including Dave Liebman, Bob Brookmeyer, Anat Cohen, Esperanza Spalding, Billy Cobham, Antonio Sanchez, Gil Goldstein, Tiger Okoshi, The Boston Camerata, The Boston Cello Quartet, A Far Cry, American Composers Orchestra, Okay Temiz, Erkan Oğur, and Brenna MacCrimmon.
For more information and photos, go to www.bluheron.org
# # #