FOR IMMEDIATE RELEASE:
Award-Winning Blue Heron Ensemble Presents Un petrarchino cantato – Petrarch's Canzoniere in song
Saturday, February 12, 2022 at 2:30 pm and 8:00 pm
Cambridge, Congregational, 11 Garden Street, Cambridge MA
Scott Metcalfe, Artistic Director
Contact: Kathleen Brittan, Executive Director
978-395-1145 or kathleen@blueheron.org
You who hear in scattered verses the sound
of those sighs with which I fed my heart
in my first errant youthful days
when I was in part another man than who I am today …
Thus begins our musical valentine of 16th-century madrigals setting poetry by Francesco Petrarca. In church on April 6, 1327, the 23-year-old Petrarch beheld a beautiful young woman, Laura, and was instantly pierced through by love at once carnal and spiritual. His love for Laura would obsess, torment, and inspire him until her death from the plague in 1348 and beyond, for the rest of Petrarch's life, shaping his work and the meaning of his existence.
Inspired by love, Petrarch's Canzoniere in turn inspired some of the most expressive, beautifully crafted, and emotionally powerful music of the sixteenth century. Blue Heron's "Petrarchino cantato" or pocket Canzoniere presents madrigals by Verdelot, Arcadelt, Willaert, de Rore, Wert, Marenzio and others sung by six musicians, with dramatic recitation of poems and other writings in Italian and in English translation performed by two actors, one Italian and one American.
Not your average valentine—but a perfect afternoon or evening out, filled with drama and emotion.
Free pre-concert talk by Prof. Christopher Martin (Boston Universtiy) begins 45 minutes before each concert.
Please note our COVID safety protocols for in-person attendance at https://www.blueheron.org/covid-19/
Tickets for live concerts are $50 for adults, $35 for Seniors, $10 for students or low-income, and include on-line access. Tickets for online-only concerts are $39 for adults, $30 for seniors, $10 for students or low-income. Visit www.blueheron.org/concerts for full details.
About Blue Heron
BLUE HERON has been acclaimed by The Boston Globe as "one of the Boston music community's indispensables" and hailed by Alex Ross in The New Yorker for its "expressive intensity." The ensemble ranges over a wide repertoire from plainchant to new music, with particular specialties in 15th-century Franco-Flemish polyphony and early 16th-century English sacred music, and is committed to vivid live performance informed by the study of original source materials and historical performance practices. Blue Heron offers a catalog of twelve recordings and is the first group outside of Europe to receive the Gramophone Classical Music Award for Early Music (2018). Blue Heron is Renaissance vocal music for the 21st century. For more information and photos, go to www.bluheron.org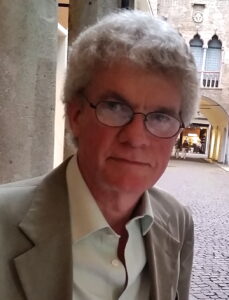 ABOUT CHRISTOPHER MARTIN
Christopher Martin is professor of English at Boston University, specializing in European literature of the early modern period. His publications include Policy in Love: Lyric and Public in Ovid, Petrarch, and Shakespeare and Constituting Old Age in Early Modern English Literature, from Queen Elizabeth to King Lear, and he is editor the Penguin anthology Ovid in English as well as Bloomsbury's forthcoming A Cultural History of Old Age in the Early Modern Period (1400-1650).