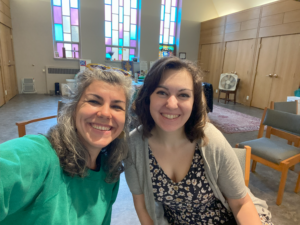 Today was our last full day in Boston before we fly to Belgium tomorrow. It was a dense rehearsal: it turns out preparing two concert programs is nothing less than a mental and vocal workout. Remembering approximately 40 tempi, jumping from the solemnity of mass to a bawdy chanson, or a sweet love song and nailing the affect (and that 1 crazy rhythm every piece seems to have hidden somewhere). Perhaps, unsurprisingly, the difficulties are the following: 1)not to panic/rush at a rhythmically complex passage, 2) cadences, 3) tempi transitions, and 4) the first 3 bars of every mouvement or song. But as soon as we nail the beginning as a group, a special magic takes over the room. It is in those moments that I am reminded of why I chose this wild career. MUSIC IS SO COOL!!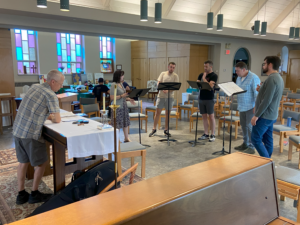 Here are 3 scenes one would have witnessed had they been a mouse in the room:
If mistakes happened at the final cadences ending, someone might point that out by adding a French baroque ornament on the 3rd, Beyoncé-style riffing, or am infamous misplaced Picardy third.
Scott: "Did you notice that, in measure 37-38, Paul and Cody's parts are in an inverted canon?"Jason, ironically:"oh yeah! it jumps right off the page!".(Scott is often here to remind us of the "nerdy" side of these compositions. That is why we love him, and this music after all).
Paul suggested that David mime the story to our audiences while the rest of us sing the concert ender on the program. We laugh, and say nothing, which means we collectively decide it is a bad idea.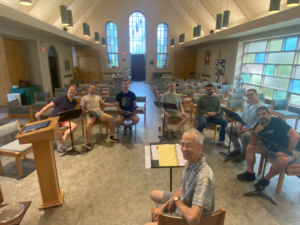 I am really looking forward to traveling with this incredible group of people. 9 Singers, Scott and Sarah (our executive director). I sometimes catch myself imagining that if we were to be stuck on the tarmac for any number of reasons, we could easily delight the plane crowd by bursting into a stunning chansons or two from Antwerp our final destination. Someone would get a video of it, and French Renaissance chansons would be the next hit on TikTok, the next trend after the Sea Shanty revival. Blue Heron would finally gain the rock star status it deserves. The other option is that traveling goes smoothly, and I am fine with that too.
One new thing I learned today: Jimmy is a passionate surfer. What other wild things am I going to learn about my colleagues on this wonderful trip? I can't wait!!