Christmas in Medieval England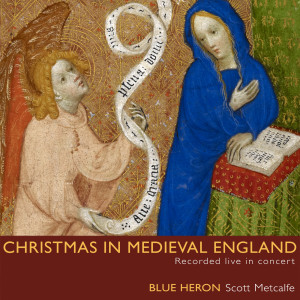 Friday, December 18, 2015 at 8:00 PM
Saturday, December 19, 2015 at 2:30 PM
Saturday, December 19, 2015 at 8:00 PM
First Church in Cambridge, Cambridge, MA
Sunday, December 20, 2015 at 4:00 PM
St. Stephen's Church, Providence, RI
"A refreshing concert… of music that embodied Christmas spirit." ~ The Seattle Times (Dec. 8, 2013)
"Blue Heron…has created a holiday custom of taking audiences to musical realms far beyond the familiar." ~ David Weininger, The Boston Globe
Christmas in Medieval England
Our very popular, festive program of music for Advent and Christmas from 15th-century England, including motets by Leonel Power and John Dunstaple, English carols, and Sarum plainchant. Blue Heron's newest CD, a live recording of this program as it was performed in 2013 — "a perfect hour of celebration and wonder" — will be available for purchase at these concerts.
Sarum plainchant
Angelus ad virginem
Gabriel fram Heven-King
Carols: Hayl Mary, Ther is no rose of swych vertu, Nowel: Owt of your slepe aryse, Ecce quod natura, Ave rex angelorum
John Dunstaple (d. 1453): Gaude virgo
Leonel Power (d. 1445): Gloria, Ibo michi ad montem mirre
Doors and box office open at 7:00 PM for evening concerts and 1:30 PM for Matinee / Pre-concert talks begin at 7:15 PM for evening concerts and 1:45 PM for Matinee.
Pre-concert talks by Daniel Donoghue (Harvard University), sponsored in part by The Cambridge Society for Early Music.
voices
Michael Barrett, Pamela Dellal, Paul Guttry, David McFerrin, Jason McStoots, Martin Near, Gerrod Pagenkopf, Stefan Reed, Mark Sprinkle, Daniela Tošić
instrumentalists
Scott Metcalfe, harp
CD cover image design by Melanie Germond.
CD image: Miniature of the Annunciation: The Beaufort / Beauchamp Hours (London and Bruges, 1401-1415). London, British Library, Royal 2 A. xviii, f. 23v. © The British Library Board. All rights reserved.