FOR IMMEDIATE RELEASE:
Award-Winning Blue Heron Presents Anne Stone: Guillaume de Machaut's multimedia Remede de Fortune.
Wednesday, November 17, 2021 7:00 pm via Zoom
Scott Metcalfe, Artistic Director
Contact: Kathleen Brittan, Executive Director
978-395-1145 or kathleen@blueheron.org
A feast of poetry, song, and visual art animated by a surprisingly Zen-like philosophy, Machaut's Remede de Fortune tells the tale of a woebegone lover who is counseled by Lady Hope on how to be happy and persevere in the face of the ups and downs dished out by Fortune and her Wheel. The 14th-century manuscripts of the Remede, whose production was overseen by Machaut, include the narrative poem, seven interpolated poems with music that present a comprehensive survey of lyric forms, and a series of illustrations.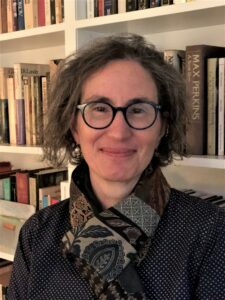 Join Prof. Anne Stone, Associate Professor and Deputy Executive Officer for musicology at the Graduate Center of the City University of New York, live on Zoom, on November 17, 2021 in Blue Heron's popular Spotlight Sessions. Prof. Anne Stone will discuss the multimedia nature of the Remede, its presentation in the original manuscripts, and its historical-cultural context, and consider how this remarkably "modern" piece came into being in the 14th century. The session includes a live, post-session Q&A with Prof. Stone and Scott Metcalfe.
This event will also be recorded and posted (password protected) for ticket purchasers.
A live recording of Blue Heron's production of the Remede, created in collaboration with Les Délices, will be released soon!
Tickets are $35 for adults, $10 for students or low-income:
https://www.blueheron.org/concerts/spotlight-sessions/spotlight-anne-stone/
An email with links and instructions will be sent 48 hours in advance of each concert.
ABOUT BLUE HERON
BLUE HERON has been acclaimed by The Boston Globe as "one of the Boston music community's indispensables" and hailed by Alex Ross in The New Yorker for its "expressive intensity." The ensemble ranges over a wide repertoire from plainchant to new music, with particular specialties in 15th-century Franco-Flemish polyphony and early 16th-century English sacred music, and is committed to vivid live performance informed by the study of original source materials and historical performance practices. With a catalog of twelve recordings, Blue Heron is the first group outside of Europe to receive the Gramophone Classical Music Award for Early Music (2018). Additional accolades in the Noah Greenberg Award form the American Musicological Society, and the Preis der deutschen Schallplattenkritik (German Record Critics' Award) in 2020. Blue Heron is Renaissance vocal music for the 21st century.
ABOUT ANNE STONE
Anne Stone is Associate Professor and Deputy Executive Officer for musicology at the Graduate Center of the City University of New York. She has taught previously at the College of Holy Cross, Harvard University, NYU, Queens College/CUNY, and the University of Iowa, and she is a former fellow of Villa I Tatti, The Harvard University Italian Renaissance Research Center. Her research interests include medieval song, medieval and Renaissance manuscripts, the cultural and intellectual history of music writing, the relationship of song to late-medieval poetic subjectivity and autobiography, and medievalism in 20th-century modernist musical thought. She is the author of two book-length studies of late-medieval songbooks, one focusing on the northern Italian manuscript Modena, Biblioteca Estense, Alpha.M.5.24, and the other, co-authored with Yolanda Plumley, on the so-called "Chantilly codex" (Bibliothèque du Château de Chantilly, MS 564). Other publications include article-length studies of songs by Guillaume de Machaut, Johannes Ciconia, and Matteo da Perugia; the relationship of notation to improvisation in the late Ars nova; the medievalism of the opera Written on Skin by George Benjamin; and the material context of Guillaume de Machaut's Remede de Fortune and Prologue. Current projects include a new edition of the songs of Guillaume de Machaut (forthcoming as part of a new complete works edition by University of Michigan Press) and a digital installation, "The Digital Remede de Fortune," which was awarded the Noah Greenberg Award from the American Musicological Society.
For more information and photos, go to www.bluheron.org