FOR IMMEDIATE RELEASE:
EUROPEAN DEBUT – Blue Heron performs to sold-out audiences in Germany and Belgium
Blue Heron
Scott Metcalfe, Artistic Director
Contact: Kathleen Brittan, Executive Director
978-395-1145 or kathleen@blueheron.org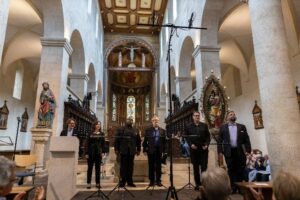 Blue Heron, Boston's internationally renowned Renaissance vocal ensemble, has plenty of fans in Europe, as evidenced by CD sales, virtual attendance, the 2018 Gramophone Award for Early Music, and the 2020 Preis der deutschen Schallplattenkritik (German Record Critics' Award). But in June, at sold-out concerts in Regensburg, Germany, and Ronse, Belgium, European audiences finally got a chance to hear the group's vibrant and expressive sound in person.
The Regensburg venue was a church on the site of an 11th century Scottish Benedictine monastery. Blue Heron performed selections from I madrigali a cinque voci (Madrigals for Five Voices) by Cipriano de Rore (1515/16–1565) as part of the 37th Tage Alter Musik (Early Music Days) before a large and enraptured audience, whose applause called the ensemble back for bow after bow even after an encore. The recorded performance then aired on BR-Klassik Radio July 1, 2022, broadcasting online from Munich.
On July 17, 2022, Blue Heron will again be heard on German radio, SWR German Radio,  in an extended program featuring selections from its pathbreaking 5-CD series, Music from the Peterhouse Partbooks.
While in Regensburg, Blue Heron took part in the international conference "Cipriano de Rore and the Invention of the Venetian Madrigal" at the University of Regensburg, organized by Prof. Katelijne Schiltz (Universität Regensburg), in collaboration with Jessie Ann Owens, professor of music (emerita), University of California Davis. Blue Heron's ties with Prof. Owens date back to 2015, when they jointly received the Noah Greenberg Award from the American Musicological Society to support the world premiere recording of Rore's I madrigali a cinque voci, which was released in 2019.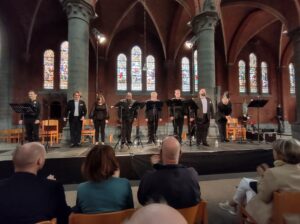 The ensemble then traveled to Ronse, Belgium, birthplace of Cipriano de Rore, by invitation of the CC De Ververij (Cultural Center of Ronse), to sing the music of Cipriano in his home town. The concert, held in the stunning St. Martin's Church, was introduced by a talk by Prof. Owens and ended in thunderous applause and several curtain calls.
ABOUT TAGE ALTER MUSIK: Tage Alter Musik (TAM) is one of the most important early music festivals in Europe, attracting thousands to its week-long, multi-concert festival. The festival draws listeners from Germany, Austria, France, Italy, and the Netherlands. (www.tagealtermusik-regensburg.de/)
ABOUT CC DE VERVERIJ: The Cultural Center of Ronse, Belgium, transformed a former textile factory into a new art academy and cultural center and created a link between the historic city center and the surrounding countryside. Ronse's textile past and contemporary architecture go hand in hand at the center. CC De Ververij offers a host of cultural experiences including exhibitions and concerts. (www.ronse.be/nl/cc-de-ververij)
ABOUT BLUE HERON
BLUE HERON has been acclaimed by The Boston Globe as "one of the Boston music community's indispensables" and hailed by Alex Ross in The New Yorker for its "expressive intensity." The ensemble ranges over a wide repertoire from plainchant to new music, with particular specialties in 15th-century Franco-Flemish polyphony and early 16th-century English sacred music, and is committed to vivid live performance informed by the study of original source materials and historical performance practices. With a catalog of twelve recordings, Blue Heron is the first group outside Europe to receive the Gramophone Classical Music Award for Early Music (2018). It also received the 2015 Noah Greenberg Award from the American Musicological Society and the Preis der deutschen Schallplattenkritik (German Record Critics' Award) in 2020.
PRAISE FOR THE CD CIPRIANO DE RORE: I MADRIGALI A CINQUE VOCI
"I madrigali is easily one of the most important additions to the early music discography in the last quarter-century.… Under Metcalfe, the ensemble delivers musical rhetoric of immense beauty, the [singers'] text-sensitive approach mirroring the composer's own faithfulness to the poems."
(Sigrid Harris, Early Music, August 2021)
"Splendid in every way … revelatory … This music could have no greater champions … technically expert … engaging and powerfully expressive …"
(Catherine Moore, American Record Guide)
"Blue Heron … deliver in spades, both in performance and in presentation … Thanks to the versatility and sensitivity of Blue Heron's singers … every work receives detailed individual attention."
(Richard Turbet, Early Music Review)
For more information and photos, go to www.blueheron.org
# # #