A set of three 60-minute voice lessons with renowned mezzo-soprano Pamela Dellal.
Lesson times to be set at the mutual convenience of the winner and Pamela Dellal.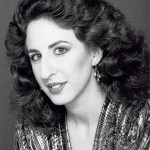 Pamela Dellal has established herself as a significant instructor of vocal technique, and she specializes in addressing the issues that are faced by singers wishing to perform early repertoires. Based on the study of resonance and placement, she works with singers of all levels to develop their understanding and control of vibrato speed, tone color, and articulation, and is particularly interested in techniques that inform excellent ensemble singing.
Pamela Dellal serves on the faculties of the Boston Conservatory, the Longy School of Music of Bard College, and Brandeis University. She is a long-time member of Blue Heron and Emmanuel Music, and has appeared frequently with ensembles from Sequentia to Dinosaur Annex. Her professional career spans repertoire from the 12th to the 21st centuries.
To learn more, visit her website at www.pameladellal.com.
Retail value: $210.00
Minimum bid: $150.00