Spotlight Session
Anne Stone: Guillaume de Machaut's multimedia Remede de Fortune.
In anticipation of the release of our new CD, Guillaume de Machaut's Remede de Fortune.
Wednesday, November 17, 2021
7:00-8:30 PM
Online
Recorded event will be available two weeks following the live event for ticket holders.
Ticket sales for this event are now closed.
If you are a ticket holder and did not receive the link to attend along with the password, please email office@blueheron.org for assistance.
A feast of poetry, song, and visual art animated by a surprisingly Zen-like philosophy, Machaut's Remede de Fortune tells the tale of a woebegone lover who is counseled by Lady Hope on how to be happy and persevere in the face of the ups and downs dished out by Fortune and her Wheel. The 14th-century manuscripts of the Remede, whose production was overseen by Machaut, include the narrative poem, seven interpolated poems with music that present a comprehensive survey of lyric forms, and a series of illustrations. Prof. Anne Stone will discuss the multimedia nature of the Remede, its presentation in the original manuscripts, and its historical-cultural context, and consider how this remarkably "modern" piece came into being in the 14th century.
Live on Zoom and followed by Q&A with Prof. Stone and Scott Metcalfe.
A live recording of Blue Heron's production of the Remede, created in collaboration with Les Délices, will be released soon!
---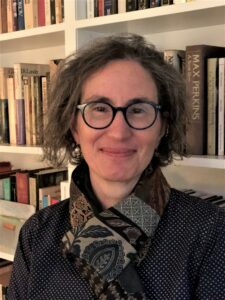 Anne Stone is Associate Professor and Deputy Executive Officer for musicology at the Graduate Center of the City University of New York. She has taught previously at the College of Holy Cross, Harvard University, NYU, Queens College/CUNY, and the University of Iowa, and she is a former fellow of Villa I Tatti, The Harvard University Italian Renaissance Research Center. Her research interests include medieval song, medieval and Renaissance manuscripts, the cultural and intellectual history of music writing, the relationship of song to late-medieval poetic subjectivity and autobiography, and medievalism in 20th-century modernist musical thought. She is the author of two book-length studies of late-medieval songbooks, one focusing on the northern Italian manuscript Modena, Biblioteca Estense, Alpha.M.5.24, and the other, co-authored with Yolanda Plumley, on the so-called "Chantilly codex" (Bibliothèque du Château de Chantilly, MS 564). Other publications include article-length studies of songs by Guillaume de Machaut, Johannes Ciconia, and Matteo da Perugia; the relationship of notation to improvisation in the late Ars nova; the medievalism of the opera Written on Skin by George Benjamin; and the material context of Guillaume de Machaut's Remede de Fortune and Prologue. Current projects include a new edition of the songs of Guillaume de Machaut (forthcoming as part of a new complete works edition by University of Michigan Press) and a digital installation, "The Digital Remede de Fortune," which was awarded the Noah Greenberg Award from the American Musicological Society.