A Blue Heron Christmas Special
Featuring highlights from our English and French Christmas programs, new Spanish repertoire, members of Dark Horse Consort, and a new work by Kevin Allen, Puer nobis nascitur, commissioned by Blue Heron and dedicated to Dorrie Parini and Paul LaFerriere for their generous support.
Saturday, December 19, 2020 at 7:30 PM

Live pre-concert talk at 6:30 PM by Scott Metcalfe with composer Kevin Allen.
Tickets: $50 / $35 / $10
Click here for more information about virtual concerts.
All concert dates, programs and personnel are subject to change without notice.
ABOUT THE COMPOSER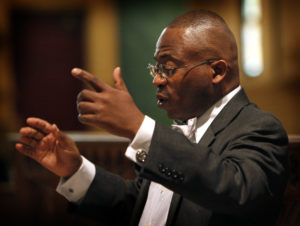 Kevin Allen is highly regarded as a composer of opera, chamber, and orchestral music. He has also developed a unique reputation as a composer of church music for the Roman Rite. Mr. Allen's sacred and secular works have been performed in churches and concert halls throughout the United States and Europe. Based in Chicago, he is the founding director of the Collins Consort, American Composer's Project, and Schola Immaculata. Mr. Allen is also the choirmaster of the Monastery of the Holy Cross in Chicago and serves as Director of Music for Saint John Cantius in Chicago.
Photo: Karen Callaway/Catholic New World