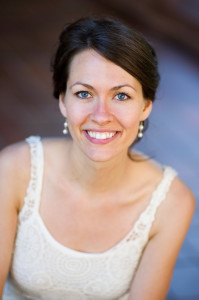 Commended by The Boston Globe for her "crystalline tone and graceful musicality," soprano Sonja DuToit Tengblad is a versatile performer with credits spanning the Renaissance era through music by the composers of our time. Recent highlights include solo roles in Vivaldi's Juditha triumphans, Monteverdi's Il ritorno d'Ulisse in patria, and Mozart's Die Zauberflöte with Boston Baroque; appearances with the Handel & Haydn Society in Bach's St. John Passion, Purcell's King Arthur, and Handel's Samson; Handel's Acis and Galatea with the Blue Hill Bach Festival; Knussen's Symphony No. 2 for high soprano with the Boston Modern Orchestra Project; and her Carnegie Hall and Lincoln Center debuts with the New York City Chamber Orchestra.
A champion of new music, Ms. Tengblad has premiered many roles and works including the Boston premiere of Kati Agócs's Vessel and the world premiere of Agócs's The Debrecen Passion, both performed and recorded with the Lorelei Ensemble and the Boston Modern Orchestra Project, and the premiere of Shirish Korde's Questions for the Moon with members of the Silk Road Ensemble.
She performs with Boston's BeatSong, Blue Heron, Lorelei Ensemble, Handel & Haydn Society, and Boston Baroque; the Grammy-winning ensemble Conspirare (Austin); and the Yale Choral Artists. Recent highlights include the Lorelei Ensemble's appearances with the Boston Symphony Orchestra at Symphony Hall and Carnegie Hall, and solo engagements including Mahler's Symphony No. 2 with the Boston Philharmonic, Barber's Knoxville: Summer of 1915 with the Landmarks Orchestra, and Porpora's Calcante ed Achille with A Far Cry.