A brief history of Blue Heron, 1999-2019
Blue Heron was founded in 1999 by two singers, Noël Bisson and Cheryl Ryder, and a director, Scott Metcalfe, following a chance encounter and conversation between Cheryl and Scott on the Waverley bus. The three founders brought a combination of experience to the project. Noël Bisson is also a scholar who earned a PhD in musicology from Harvard University with a dissertation on the music of the Eton Choirbook (c. 1500), and her scholarly focus helped to set the ensemble's course from the outset, steering it towards English sacred music just prior to the Reformation and that repertoire's possible connections with Continental music from around the turn of the century. (Noël has been a lecturer in music at Harvard and a member of the faculty and administration at Colgate University; she now works at Harvard as a dean in the Faculty of Arts and Sciences.) Cheryl, also an organist, holds degrees in a diverse array of disciplines—music, psychology, and finance, from Wellesley, Harvard, and Boston University, respectively—and brought her business acumen to bear on the organizational side of the new artistic endeavor, dealing with the group's incorporation in the Commonwealth of Massachusetts, applying for federal non-profit status, and helping to put together the first board of directors. Cheryl was also our first donor; her underwriting was crucial to the ensemble's survival and success for several seasons. (Cheryl is extremely active in the organ world around Boston, is the artistic director and administrator of Canto Armonico, and has also worked for decades at Harvard as an administrator in the Department of Chemistry and Chemical Biology.) Scott worked primarily as a baroque violinist in the early years of his career; in 1999 he was also music director of the Renaissance choir Convivium Musicum and the professional vocal ensemble the Cambridge Bach Ensemble. (A few years after Blue Heron was founded, he would return to school to earn the first master's in performance practice awarded by the Department of Music at Harvard.)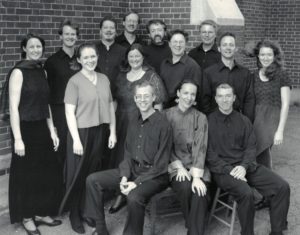 Blue Heron, circa 2001. Back row: Carolann Buff, Mark Sprinkle, Allen Combs, Charles Turner, Paul Guttry, Glenn Billingsley. Middle: Noël Bisson, Cheryl Ryder, Brad Peloquin, Bill Hudson, Michela Macfarlane. Front: Scott Metcalfe, Virginie Landré, Terry McKinney. Photo by George Mastellone.
The original intention was simply to create a professional vocal ensemble to perform Renaissance music, but the seeds of more ambitious goals were sown before long. These goals would soon include: exploring music unheard since its composition hundreds of years ago—early music as new music; learning as much as possible about how the music was performed originally; applying that knowledge in the service of vivid live performance for living, breathing human beings in the present day; and contributing to a renaissance of professional vocal chamber music in North America. The ensemble's repertoire extends from the earliest notated western music to new music, with a particular focus on music composed between about 1400 and 1600.
Browsing the files of 16th-century vocal music at the Von Huene Workshop in Brookline in the summer of 1999, Scott Metcalfe came across a piece by the virtually unknown Hugh Aston. The piece, Ave Maria dive matris Anne, was a votive antiphon uniquely transmitted in a set of partbooks from about 1540, the so-called Peterhouse partbooks, whose missing tenor part had been reconstructed by Nick Sandon. Ave Maria dive matris Anne was featured on Blue Heron's first concerts in October 1999, along with other music from the Peterhouse partbooks, including John Taverner's Missa Mater Christi, and plainchant from the English Sarum rite. The ensemble was captivated by Aston's music, and soon a long-range plan emerged to perform and eventually record a large quantity of the Peterhouse repertoire—72 works, mostly Masses and antiphons on a grand scale, of which 50 are unique to Peterhouse and missing their tenor due to the loss of the tenor partbook, several centuries ago. Blue Heron has performed music from the Peterhouse partbooks in every season since 1999, and has recorded a set of five CDs, Music from the Peterhouse Partbooks, consisting almost entirely of world-premiere recordings of long-forgotten works. Volume 5, released in March 2017, won the 2018 Gramophone Classical Music Award for Early Music, the first recording by a non-European ensemble to win that award in its 41-year history, and the five discs are now available in a boxed set entitled The Lost Music of Canterbury. The ensemble plans to continue presenting thus-far unperformed works from the partbooks for years to come: the five CDs contain four Masses of the nineteen in the partbooks, one Magnificat of seven, and eleven antiphons out of forty-six, so we have a lot more to delve into.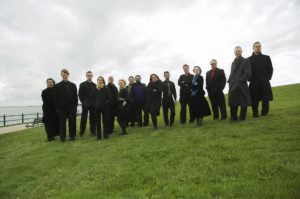 October 2009. Daniela Tosic, Mark Sprinkle, Stephen Soph, Jennifer Ashe, Cameron Beauchamp, Brenna Wells, Paul Guttry, Jason McStoots, Teresa Wakim, Martin Near, Allen Combs, Noël Bisson, Glenn Billingsley, Scott Metcalfe, Michael Barrett. Photo by Liz Linder.
Blue Heron's first season also marked the beginning of its engagement with the music of Johannes Ockeghem (c. 1420-1497), with a concert in March 2000 of works by Ockeghem and his contemporaries. Blue Heron has remained committed to 15th-century Franco-Flemish music and in 2015, as the Peterhouse recording project was approaching completion, the ensemble inaugurated Ockeghem@600, an ambitious undertaking to perform the complete works of the 15th-century master—one of the very greatest composers of the western tradition—in thirteen programs over six years from 2015 through 2021. Professor Sean Gallagher of the New England Conservatory joins us as adviser for Ockeghem@600, giving all the pre-concert talks and consulting on programs and repertoire. A new series of five recordings commences in 2019 with the first volume of a 2-CD set of all of Ockeghem's songs. Volume 2 of the songs will follow in a few years, and the series will also include a disc of motets by Ockeghem and his contemporary Johannes Regis, songs by Antoine Busnoys, and music by other Franco-Flemish composers.
In the summer of 2000, Blue Heron appeared in a number of concerts at Monadnock Music in southern New Hampshire, at the invitation of Monadnock's founding director, James Bolle. The ensemble's association with Monadnock Music would last through the 2007 season, bringing numerous performances of rarely-heard vocal chamber music to the festival.
Blue Heron presented its first program of Spanish repertoire in July 2002. Music from Spain and the New World soon took its place as another specialty alongside 15th- and 16th-century English and Franco-Flemish repertoire—avoiding the chestnuts and seeking out unheard, compelling, new music from the past.
The summer of 2004 saw Blue Heron sing new music from the present day, in a program entitled "Speaking in Many Tongues" which featured works by the Australian composer Elliott Gyger. While new music remains a small part of Blue Heron's work, the ensemble has returned to it on several occasions, including a 2014 collaboration with the composer and MIT professor Tod Machover entitled Vocal Vibrations, which was featured at installations at Le Laboratoire Paris and Le Laboratoire Cambridge. Its later repertoire also includes Gabriel Fauré's Requiem, performed in its original scoring with Boston's chamber orchestra A Far Cry, and Le Cantiques des Cantiques for twelve voices by Jean-Yves Daniel-Lesur, composed in 1952. In 2019-20 Blue Heron will return to the Daniel-Lesur on a program that will also feature Devran, a setting of Sufi texts by Boston's own Mehmet Ali Sanlıkol.
In 2005 Blue Heron appeared for the first time at the Boston Early Music Festival and made its New York City debut at the 92nd Street Y. In the years since it has returned occasionally to BEMF and regularly to New York, where it has performed twice at The Cloisters (Metropolitan Museum of Art) and since 2015 has been an annual visitor to the venerable series Music Before 1800.
In 2006 Professor Mauro Calcagno of Harvard University (now at the University of Pennsylvania) invited the ensemble to perform the entire Eighth Book of Five-Voice Madrigals by Luca Marenzio at the International Marenzio Conference at Harvard. This honor resulted from a collaboration with Professor Calcagno's seminar on Italian madrigals, taught at Harvard in the spring of 2005. Blue Heron's engagement with Italian madrigals has recently borne further fruit. In 2015 Blue Heron and Jessie Ann Owens (Distinguished Professor Emeritus, University of California, Davis) received the Noah Greenberg Award from the American Musicological Society to support a world-premiere complete recording of Cipriano de Rore's first book of madrigals, I madrigali a cinque voci of 1542. Following several years of preparation and performance, the 2-CD set was recorded in 2018-19 and will be released in October 2019.
Blue Heron released its first CD, a disc devoted to the music of Guillaume Du Fay (c. 1397-1474), in 2007. Since then, in addition to the 5-CD series Music from the Peterhouse Partbooks, presenting world-premiere recordings of music by Hugh Aston, Robert Jones, Nicholas Ludford, John Mason, Richard Pygott, and others, Blue Heron has recorded a CD of music to accompany the book Capturing Music: The Story of Notation by Thomas Forrest Kelly (W. W. Norton, 2014) and the live recording Christmas in Medieval England (2015). All of Blue Heron's CDs have received international critical acclaim and volume 1 in the Peterhouse series made the Billboard charts, following a favorable notice by Alex Ross in The New Yorker. Blue Heron's recordings, with the exception of Capturing Music, appear on the ensemble's own label.
Blue Heron has designed and performed several concert programs to complement exhibits of Renaissance art. In 2008 Blue Heron joined forces with Dr. Douglas Kirk and the Boston Shawm and Sackbut Ensemble to present "Music from the Age of El Greco and Velázquez" in conjunction with El Greco to Velázquez: Art during the Reign of Philip III, at the Museum of Fine Art, Boston. In 2011 Blue Heron collaborated with the Harvard Art Museums to perform a pair of programs entitled "Music for Three Sovereigns" in conjunction with the exhibition Prints and the Pursuit of Knowledge in Early Modern Europe, and Scott Metcalfe joined curator Susan Dackerman for a gallery talk. In February 2017 Blue Heron appeared at the National Gallery of Art in Washington in "Music for Florence and the Medici," a program custom-made for the exhibition Della Robbia: Sculpting with Color in Renaissance Florence.
In recent seasons the ensemble has begun to explore 14th-century music in depth and in 2016-17 created a multimedia presentation of Guillaume de Machaut's Remede de Fortune in collaboration with Cleveland's Les Délices, directed by Debra Nagy. The production was revived in 2019 and a live recording of those performances will be issued in 2021. Other musical collaborations have included projects with the brass ensemble Dark Horse Consort, the viol consort Parthenia, the British vocal ensemble Plus Ultra, and Philadelphia's wind band Piffaro.
Blue Heron has been in residence at Boston College (2009-2012) and the Center for Early Music Studies at Boston University (2012-2015). In recent seasons it has also presented several lecture-demonstrations at the New England Conservatory and hopes that association will continue to develop.