Scott Metcalfe could work with your choir!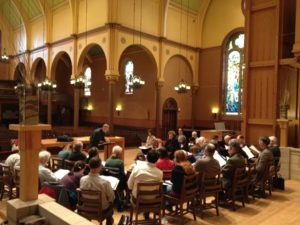 Blue Heron offers a wide variety of educational programs, including master classes, ensemble coaching, lecture-demonstrations, and workshops. These can be combined with Blue Heron concert performances. If you are intrigued by the idea of Scott Metcalfe working with your choir, please contact us!
With 25 years of experience directing vocal ensembles and an engaging, supportive, and down-to-earth style, Scott Metcalfe can help singers at any skill level achieve audible results, even in an hour or two. And your singers are sure to have fun!
Metcalfe was music director of the Boston-based amateur Renaissance choir Convivium Musicum for 11 years, and has taught at Boston University, Harvard University, Oberlin Conservatory, and the New England Conservatory. He received a master's degree in historical performance practice from Harvard University in 2005. Artistic director of Blue Heron since its founding in 1999, Metcalfe was also music director of the Green Mountain Project (Jolle Greenleaf, artistic director) from 2010-2019. He has been guest director of the Handel & Haydn Society, the Tudor Choir, TENET (New York), the Dryden Ensemble (Princeton, New Jersey), Quire Cleveland, and the Seattle Baroque Orchestra, and he conducted Early Music America's Young Performers Festival Ensemble in its inaugural performance at the 2011 Boston Early Music Festival. Scott Metcalfe's bio.
"It was a really fun workshop… I especially enjoyed the juxtaposition of the singing and the learning about the music theory and the history."
To explore the possibility of a visit from Scott Metcalfe, please contact us.