Janet Stone joined Blue Heron in the Spring of 2016 and hit the ground running. She is thrilled to be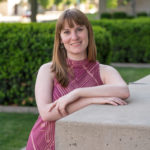 assisting this ensemble with its many successful recordings and concerts, continuing into Blue Heron's 20th season and beyond. Janet has worked in music administration for almost a decade, most recently working at Trinity Church, Copley Square for 5 years.
In addition to her administrative duties, Janet is singer on staff at Trinity Church in Copley Square and performs with many local choral groups such as Ensemble Altera, Skylark Ensemble, and Cappella Clausura, among others. You can find her current season engagements at www.janetstonesoprano.com.
Janet grew up just outside of Madison, Wisconsin where she discovered her passion for music through the choruses at Grace Episcopal Church and Madison Opera. She received her Bachelor of Music degree in Vocal Performance at Coe College in Cedar Rapids, Iowa, where she studied with Margie V. Marrs and Tara Warfield.