Blue Heron's UK Tour (October 2017)
In October 2017, Blue Heron will visit Cambridge and London, to perform music from the Peterhouse partbooks. These will be the ensemble's first performances outside the U.S. Below is some information about the performances and the related activities surrounding the tour, as well as links for ticket purchase, where applicable.
Friday, October 6, 2017
At 3:30 PM in the Peterhouse Theatre, Blue Heron's Artistic Director, Scott Metcalfe, will present a paper at a conference focussed on the architectural history of Peterhouse's Chapel. His talk will focus on the liturgical music that would have been sung in the chapel in the 1630s (when the chapel was built), and performance practice information such as scoring, voice types, choir sizes, and pitch levels. Some of Mr. Metcalfe's research on the performance practice of English vocal music in the 16th and 17th centuries will be published as two chapters in Music, politics, and religion in early seventeenth-century Cambridge: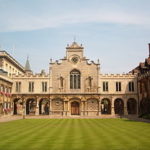 the Peterhouse partbooks in context (Woodbridge: Boydell and Brewer, forthcoming).
At 6 PM, in the Chapel, at an invitation-only event, Blue Heron will offer a program of some of the liturgical music that would have been sung in the chapel in the 1630's, which is drawn from the Caroline set of Peterhouse partbooks. The Henrician set, from which the music on Blue Heron's 5-CD set is drawn, dates from about a century earlier.
The conference is not open to the public. The conference is a first step toward a planned renovation of the chapel and the organ. For more information on that effort, click here.
Saturday, October 7, 2017 • 7:30 PM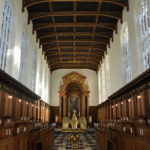 Chapel of Trinity College, Cambridge
A full-length concert, with intermission, entitled Music from the Henrician Set of Partbooks at Peterhouse, will be presented by Blue Heron in Trinity College Chapel, as the opening concert of Camerata Musica's renowned series.
Click here for more information, and tickets.
Sunday, October 8, 2017 • 3 PM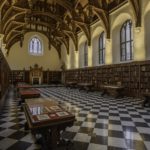 Great Hall at Lambeth Palace Library, London
Hosted by the Friends of Lambeth Palace Library, Blue Heron and Nick Sandon will offer a joint presentation on the Peterhouse Partbooks in the historic Great Hall at the Lambeth Palace Library. The library will have on display in the Great Hall early manuscripts relevant to the music and the tumultuous period in which the books came into being. Prof. Sandon will give a short talk about the significance of the Peterhouse partbooks beginning at 3 PM, which will be followed by Blue Heron's performance of a selection of music from the Partbooks. The presentation will last about one hour, with no intermission.


Blue Heron (Scott Metcalfe, dir.)
Margot Rood, Shari Wilson, Teresa Wakim, Jennifer Ashe, Pamela Dellal, Martin Near, Owen McIntosh, Jason McStoots, Michael Barrett, Mark Sprinkle, Paul Guttry, Steven Hrycelak, David McFerrin, voices